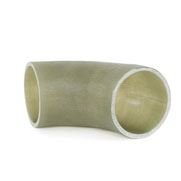 Features of FRP Fitting:
Corrosion Resistance
FRP Fitting is made from a composite of glass fiber and polyester resin. FRP is an inert substance with superb corrosion resistance, chemical resistance, and weathering resistance.
Non-Toxicity
FRP Fittings can be rendered in exact accordance with the laws of forces governing the construction of Fitting that will come into contact with potable water and foodstuffs thanks to filament winding processing technologies combined with polymerization and vaporization processes.
Hydraulic Efficiency
FRP Fitting with a smooth internal surface has a high "c" rating, allowing them to carry a high flow at a low frictional head loss, lowering pumping costs and saving energy.
Longer Service Life
The hydraulic design base (HDB) of FRP Fittings is such that it would have a protection factor of 1.8 times its pressure class even after 50 years of continuous operation. In comparison to C.I., STEEL, G.I., and P.S.C. Fitting, FRP Fittings can have a much longer operating life, longevity, and performance at a much lower life-cycle expense.
Surge Pressure
High surge pressure tolerance In comparison to steel and C.I. Fitting, FRP Fitting has a greater resistance to surge strain and higher stiffness, which means they have a lower risk of bursting due to water hammers.
Lightweight
As compared to other materials, FRP Fitting has a lower strength-to-weight ratio. It is low in weight due to the use of 1/10 P.S.C., 1/5 steel, and 1/8 C.I. As a result, FRP Fittings are simple and quick to add, handle, modify, and fix.
Low Thermal & Electrical Inductivity
FRP Fittings have superior thermal insulating properties, so they don't need to be heated on the outside to keep the temperature within the Fitting consistent. For FRP Fittings, cathodic security is also not needed.
| | | |
| --- | --- | --- |
| Material | Density (g/cm³) | Tensile strength (Mpa) |
| FRP | 1.8 | 1400 |
| Ductile iron | 7.6 | 420 |
| Steel | 7.83 | 1034 |
Manufacturer Supplier of FRP types in India:-
FRP Suppliers in India
Bengaluru
Mumbai
Chennai
Hyderabad
Kolkata
Pune
New Delhi
Ahmedabad
Jaipur
Surat
Salem
Gandhinagar
Bhiwandi
Tiruppur
Sivakasi
Jamnagar
Thiruvananthapuram
Rajahmundry
Bhubaneswar
Vijaywada
Firozabad
Bokaro Steel City
Rajkot
Bharuch
Panna
Raipur
Cochin
Ludhiana
Panipat
Durgapur
Peenya
Pimpri-Chinchwad
Channapatna
Kharagpur
Nashik
Bareilly
Varanasi
Haldia
Rourkela
Navi Mumbai
Moradabad
Indore
Visakhapatnam
Trivandrum
Pithampur
Dibrugarh
Angul
Gwalior
Coimbatore
Kannur
Nagpur
Vadodara
Rudrapur
Noida
Agra
Bhagalpur
Jamshedpur
Bhilai
Lucknow
Kanpur
Thane
Bhopal
Sri City
Bareilly
Hosdurg
Pithampur
Manufacturer Exporter of FRP types:-
FRP types exporter:
Saudi Arabia
Oman
Kuwait
Netherlands
Iran
Bahrain
Qatar
UAE
Africa
New Zealand
Nigeria
Mexico
Canada
Venezuela
United Kingdom
United States
South Africa
Malaysia
Bangladesh
Turkey
Singapore
Sri Lanka
Australia
Brazil
Germany
France
Italy
South Korea
Poland
Belgium